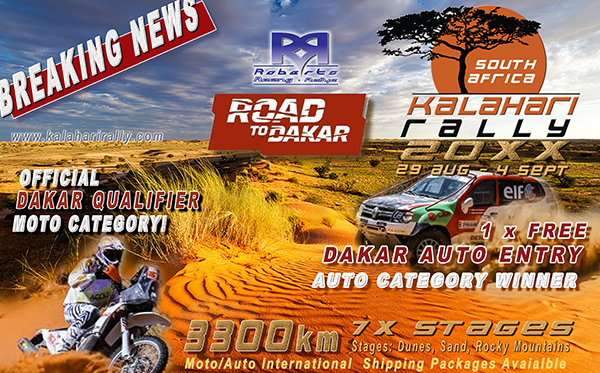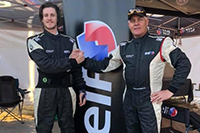 JOHAN & SEAN(SON) VAN STADEN WILL.MAKE THEIR DEBUT FATHER AND SON RALLY RAID AT KR19
Johan, KR18 Auto winner will certainly be a big contender for the win in 2019!!! This last minute dot com entry from Johan was a real pleasant and welcomed surprise for the KR19 Team!!! KR19 cannot wait to see the return of KALAHARI RALLY's BIGGEST AMBASSADOR!!!!
MAXXIS SOUTH AFRICA PARTNERS WITH KALAHARI RALLY 2019
the Last few weeks has been incredibly difficult day for KALAHARI RALLY, but then miracles like this just knock us
LADY ENTRY: IRON MAN CATEGORY
KALAHARI RALLY 2019 WELCOMES THE ONLY LADY ENTRY FOR IRON MAN CATEGORY!
"KR19 IRON WOMEN, CHRISTINE STEINKRAUSS"
Christine will be mixing it up with the men in the "Iron Man" Category where they are not allowed any assistance from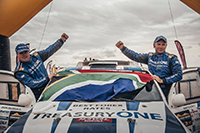 HENNIE DE KLERK & JOHANN SMALBERGER – TREASURY ONE MOTORSPORT
Kalahari Rally 2019 Edition welcomes the entry of Dakar 2018 – T1 Rookie Winner, Hennie de Klerk in his
2019 - FINAL STAGE OVERVIEW MAP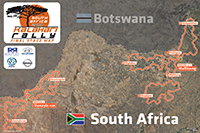 PHILON PARPOTTAS (UK)
I have competed in many Races over the years mainly extreme trophy style events and winch challenges in the early days. Transylvania Trophy 3 times, Croatia Trophy 5 times, Rallye Breslau Poland 4 times Also raced Ultra4 Europe since it started in 2012, competing in almost all the races in UK and Europe. UK, Portugal, France, Poland and Spain.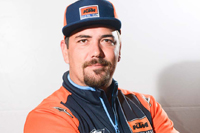 ROBERT GIBBON (ZA)
Robert Gibbon a first time entrant to rally at the 2018 Kalahari Rally, has found his love for Rally Raid. Robert has already finished KR18, and the 2019 Merzouga Dakar Qualifier to compete in the Dakar in the next 2 years! KR18 are happy to have Robert back at KR19!
First KR19 European Entries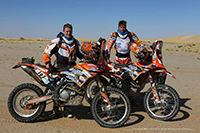 Belgian riders Joris van Dyck and Gwen Backx (son of Rene Backx, old Dakar bike competitor), are the first Moto Division entries from Europe for the 2019 Kalahari Rally.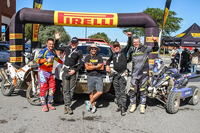 ROSS BRANCH – MOTO (KTM SA Factory). MIKE LAWRENSON(Nav) & JOHAN VAN STADEN(Driver) – AUTO (Elf Renault Duster). HAMISH HORRELL – ATV (Team NH3 Refrigeration)